描述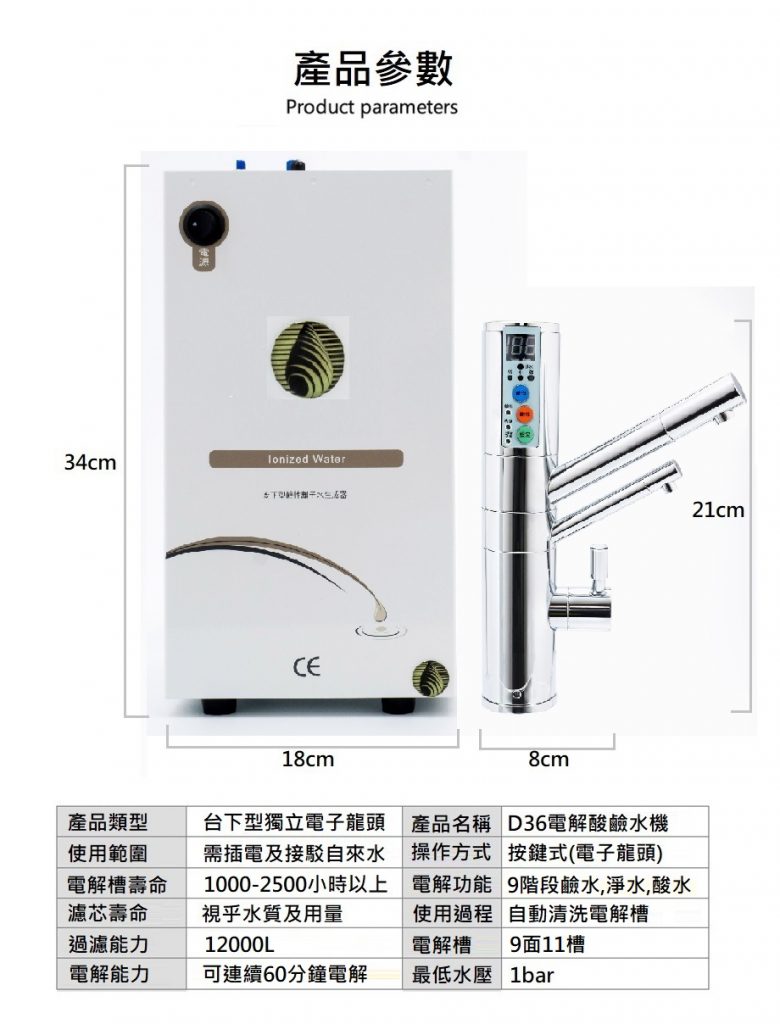 D-36 – 廚下型電解酸鹼水機
-連續操作電解酸鹼水機
-專利設計自動排水洗淨
特點:
-自我淨化。 每次使用後自動電解室清洗。 水嘅容積可以按要求設置
-不同水平的水 PH 值, 包括電離鹼性, 非電離純化, 和電離酸性
-9 種先進電鍍工藝, 用鉑塗層鈦煆燒加工, 產生重要的活化氫, 主要原素以消除自由基。
-適當的抗氧化指數值可供選擇。 請參閱以下ORP 資料.
-連續操作時間最長40mins, 視水質而定。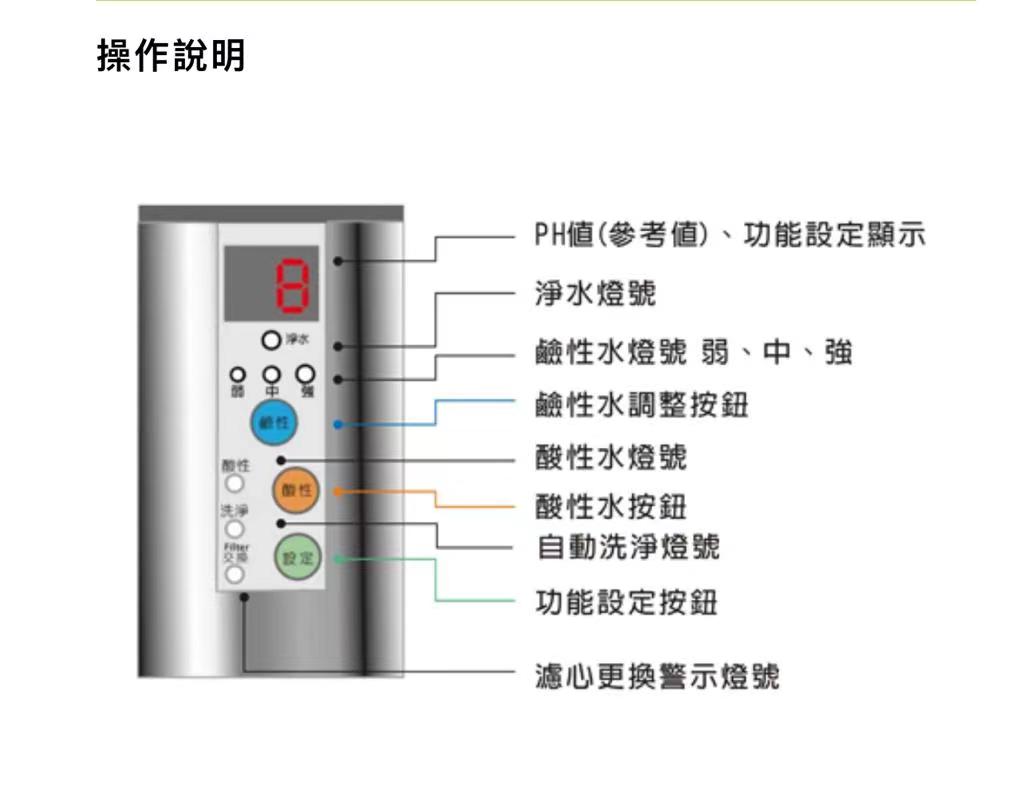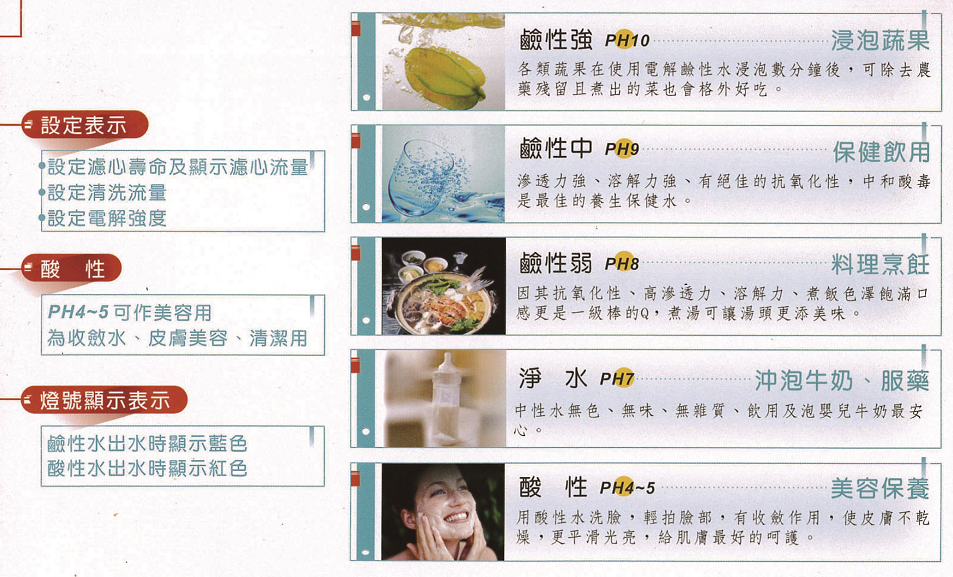 Model No.
D36
Electrolysis ionized water continuous generator
Measurement
Electrolyzer
W: 16x D:19 x H:30cm
8Kgs
Faucet
D: 4.7cm H: 21.7cm
1.6Kgs
Pipe size 3.5cm
Material: Lead-free copper plated with chrome
Voltage
AC220V 50Hz
Power
Max. 250W
Pressure
0.5-3.5Kgs
Water Temperature
40C Max.
Max Electrolysis area
648cm2
Features:
– self-cleansing. Automatic electrolysis chamber cleansing after use everytime. Water volumn can be pre-set depends on requirement.
-different levels of water ph, including ionized alkaline, non-ionized purified, and ionized acidic
– 9 advanced electroplate technology, calcination processing with platinum coated titanium, produces an important amount of activated hydrogen, an major component to eliminates free radicals.
– suitable ORP value range for human body. Pls see below for more of ORP.
– continous operation time 40mins max., depends on water quality.
Remarks:
** Flow rate which will be depends on the material or cartridges, we provide with variety types, such as resin, activated carbon, KDF, brim, filter-AFG, and polypropylene, ceramic.
** Cartridge replacement is subject to water quality and volume.
What is ORP?

ORP stands for Oxidation Reduction Potential. Water either has a "positive" or "negative" ORP, measured in millivolts mV. It is the negative ORP that is beneficial to our body in that it reduces oxidation (anti-oxidant). Negative ORP is in ionized water and fresh, uncooked foods. Positive ORP increases oxidation (aging) and is found in tap water, bottled waters, distilled and reverse osmosis waters as well as cooked and processed foods.
Redox Potential Comparison
After electrolysis of the water inside the Ionized Water unit, reduced water comes out of the cathodic side (alkaline drinking side) and oxidized water comes out of the anodic side (acidic waste side). Compare these measurements of these three types of water: tap water before electrolysis, the reduced water, and the oxidized water.
What Ionized Water Does…
The water ionizer produces two kinds of water with different redox potentials, one with a high reduction potential and the other with a high oxidation potential.
When taken internally, the reduced alkaline ionized water, with its redox potential of -250 to -400mV, readily donates its electrons to oddball oxygen free radicals and blocks the interaction of the active oxygen with normal molecules.